Full Business Case for the Workington Innovation Centre
---
Client: Allerdale Borough Council
In March 2021, the UK Government announced that the Workington Town Deal Board - involving public, private and voluntary sector partners – had been successful in securing £23m via the Towns Fund. One of the flagship proposals for the town centre is the Workington Innovation Centre (WIC) development, which seeks to establish the WIC as a distinctive, successful and widely recognised focal point for the incubation and growth of scalable firms. The WIC will have broad innovation coverage, but with a particular emphasis on digital technologies and the digitisation of advanced manufacturing in the context of the UK's rapidly evolving nuclear industry supply chains.
SQW was commissioned to support partners with the development of a Green Book compliant Full Business Case (using the Five Case Model) for the WIC, which was required to unlock the Government funding. The FBC was informed by a robust assessment of the scale and nature of demand for innovation space that SQW completed earlier in the Towns Fund process.
The core rationale for the scheme is to tackle Workington's recognised enterprise and innovation deficits, address stubborn land and property market failures evident in the local office market, and support the wider regeneration of the town centre following the economic shock of the Covid-19 pandemic.
The project will transform what is currently an underutilised, edge of town centre car park into a new innovation centre with 15,000 sq ft (net lettable) of high quality, flexible space complemented by wrap-around business and innovation support. It will offer modern office and workshop space that can easily be reconfigured to meet the changing needs of tenants, a café and communal spaces to encourage interactions between firms/workers, and formal meeting rooms.
The Full Business Case – with commercially sensitive information redacted – is available here.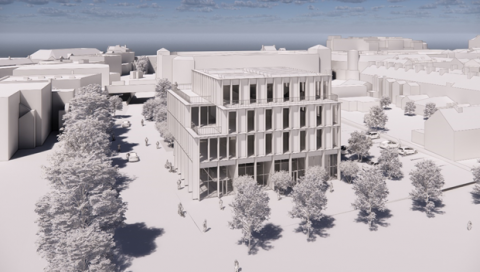 Image credit: Buttress 2022